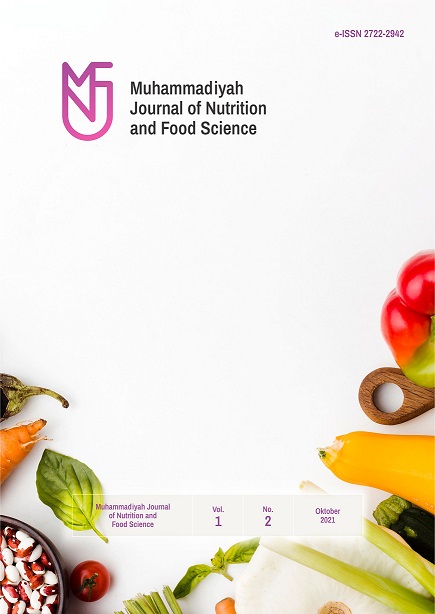 Muhammadiyah Journal of Nutrition and Food science (MJNF) adalah jurnal ilmiah dalam bidang ilmu gizi dan pangan yang terbit secara berkala, setiap dua kali dalam setahun (Mei dan November), yang diterbitkan oleh Fakultas Kedokteran dan Kesehatan, Universitas Muhammadiyah Jakarta.
MJNF mempublikasikan informasi mengenai hasil penelitian serta review dalam bidang ilmu gizi dan pangan. Fokus dan ruang lingkup jurnal ini meliputi antara lain gizi klinis, gizi masyarakat, gizi institusi, pangan fungsional, ilmu pangan, dan teknologi pangan. Tujuan utama dari MJNF adalah untuk membentuk forum publikasi, edukasi, pertukaran pendapat, dan untuk mempromosikan kegiatan penelitian dan publikasi secara global.
MJNF mengundang para dosen, peneliti, pengkaji, praktisi, industri, dan pemerhati serta mahasiswa S1/S2/S3, untuk mengirimkan paper atau artikel ilmiahnya. Paper yang masuk akan di-review secara peer-review dengan metode double-blinded. Setelah proses review selesai, hasil review akan diinformasikan kepada penulis paper melalui sistem Open Journal System (OJS).
Journal Identity
Journal Name

Journal Abreviation

e-ISSN

Publisher

Editorial Addres

Telephone

Email

First Publication Year

Publication Frequency

 

: Muhammadiyah Journal of Nutrition and Food Science

: MJNF

: Faculty of Medicine and Health, Universitas Muhammadiyah Jakarta, Indonesia

: Jl. K H Ahmad Dahlan, Cirendeu, Ciputat Timur, Tangerang Selatan, 15419.

: +62811-1380-3109

: mjnffkk@umj.ac.id

: 2020

: May & November
Announcements
No announcements have been published.