A B C D E F G H I J K L M N O P Q R S T U V W X Y Z All
eLEKTUM
eLEKTUM adalah jurnal nasional berbasis penelitian ilmiah, secara rutin diterbitkan oleh Teknik Elektro Fakultas Teknik Universitas Muhammadiyah Jakarta. Fokus dan ruang lingkup jurnal eLEKTUM meliputi (namun tidak terbatas pada) Tenaga Listrik Industri, Elektronika Industri, Sistem Kontrol dan Material elektronika. Format penulisan mengikuti template ini.
eISSN : 2550-0678
pISSN : 1979-5564
Jurnal eLEKTUM diterbitkan 2 kali dalam setahun pada bulan Mei dan November.
View Journal | Current Issue | Register
English Language in Focus (ELIF)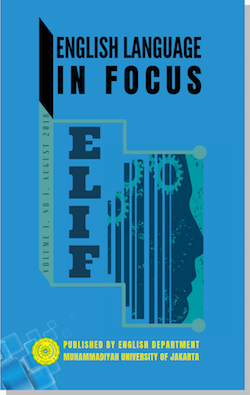 ELIF Journal is a peer-reviewed journal conceptually concerned on an interdisciplinary field of English Applied Linguistics whether as a second, additional, or foreign language or as an international Lingua Franca. It aims to provide informed-discussion media with relevance to a real-world issue
ELIF Journal is published online, twice a year, February and August. It is managed by the English Department, Faculty of Educational Sciences, Muhammadiyah University of Jakarta. It provides immediate open access to its content on the principle that making research freely available to the public supports a greater global exchange of knowledge.
View Journal | Current Issue | Register
1 - 2 of 2 Items