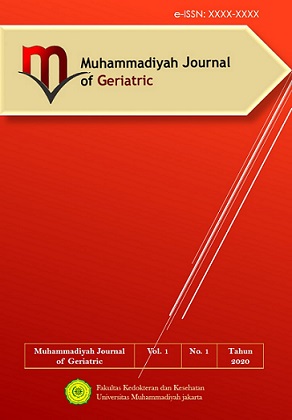 Muhammadiyah Journal of Geriatric (MuJG) merupakan jurnal ilmiah berkala, open-access, dengan skema double-blind peer-reviewed yang diterbitkan oleh Program Studi Kedokteran, Fakultas Kedokteran dan Kesehatan, Universitas Muhammadiyah Jakarta.
MuJG mempublikasikan informasi mengenai area klinis, preventif, kuratif, pengembangan terapi, basic science research dan aspek sosial pada penyakit yang berkaitan dengan geriatri dan gerontologi. Tujuan utama dari jurnal ini adalah untuk membentuk forum publikasi, edukasi, pertukaran pendapat, dan untuk mempromosikan kegiatan penelitian dan publikasi secara global.
MuJG merupakan open journal yang berfokus pada ilmu kedokteran geriatri dan gerontologi, basic science (biokimia, genetika, dan biologi molekuler tentang aging), penyakit degeneratif dan penyakit-penyakit yang sering dijumpai pada pasien geriatri.
MuJG menerima beberapa jenis format manuskrip diantaranya artikel penelitian (original article),  literatur review, dan case-report.
Announcements
No announcements have been published.