PENGEMBANGAN BAHAN PEMBELAJARAN BERBASIS MODUL ELEKTRONIK BERBANTUAN FLIPBOOK MAKER PADA MATA PELAJARAN FISIKA SMA
Abstract
Tujuan Penelitian ini adalah untuk mengembangkan bahan pembelajaran berupa modul elektronik berbantuan flipbook untuk pembelajaran fisika SMA. Modul elektronik yang dikembangkan mengacu pada model penelitian dan pengembangan Dick and Carey. Metode Penelitian yang digunakan adalah metode Research and Development Borg and Gall. Untuk mengetahui kualitas dan efektivitas modul elektronik yang telah disusun, selanjutnya dilakukan uji validitas yang melibatkan ahli materi pelajaran, ahli desain pembelajaran, teman sejawat serta peserta didik yang akan menjadi pengguna modul elektronik. Data yang diperoleh dianalisis secara deskriptif kuantitatif dan data penilaian dari validator dianalisis secara deskriptif kualitatif. Data tersebut dijadikan acuan untuk merevisi produk agar layak digunakan.
Keywords
Modul Elektronik; Flipbook Maker; Dick and Carey; Fisika
References
Carpenter, J. P., & MacFarlane, M. R. (2018). Educator perceptions of district-mandated Edcamp unconferences. Teaching and Teacher Education, 75, 71–82. https://doi.org/10.1016/J.TATE.2018.06.002
Dewi, N. N. E., Santoso, H., & Lepiyanto, A. (2020). PENGEMBANGAN MODUL BIOLOGI METODE POE (PREDICT, OBSERVE, EXPLAIN) DISERTAI NILAI KARAKTER MATERI SISTEM RESPIRASI. Quagga: Jurnal Pendidikan Dan Biologi, 12(2), 211. https://doi.org/10.25134/quagga.v12i2.2898
Dick, W., Carey, L., & Carey, J. O. (2005). The Systematic Design of Instruction (6th ed.). Pearson.
Gooder, V., & Cantwell, S. (2017). Student Experiences With a Newly Developed Concept-Based Curriculum. Teaching and Learning in Nursing, 12(2), 142–147. https://doi.org/10.1016/J.TELN.2016.11.002
Imansari, N., & Sunaryantiningsih, I. (2017). Pengaruh Penggunaan E-Modul Interaktif Terhadap Hasil Belajar Mahasiswa pada Materi Kesehatan dan Keselamatan Kerja. VOLT : Jurnal Ilmiah Pendidikan Teknik Elektro, 2(1), 11. https://doi.org/10.30870/volt.v2i1.1478
Jacob, W. J., & Gokbel, V. (2018). Global higher education learning outcomes and financial trends: Comparative and innovative approaches. International Journal of Educational Development, 58, 5–17. https://doi.org/10.1016/J.IJEDUDEV.2017.03.001
Winarko, A. S., Sunarno, W., Masykuri, M., Studi, P., Sains, P., Pascasarjana, P., & Sebelas, U. (2013). Pengembangan Modul ElektronikBerbasis POEI (Prediksi, Observasi, Eksperimen, Interpretasi)Pada Materi Sistem Indera Kelas XI SMA Negeri Ponorogo. Bioedukasi, 6(2), 58–75. https://jurnal.fkip.uns.ac.id/index.php/biologi/article/view/5530
Nasunito, S. (2000). Berbagai Pendekatan Dalam Proses Belajar Dan Mengajar. Bumi Aksara.
RUSNILAWATI, R. E. G., & Gustiana, E. (2018). THE DEVELOPMENT OF ELECTRONIC TEACHING MATERIALS BY FLIPBOOK ASSISTANCE BASED PROBLEM SOLVING SKILL WITH CTL APPROACH ON LEARNING MATHEMATICS CLASS V. Profesi Pendidikan Dasar, 1(2), 223. https://doi.org/10.23917/ppd.v1i2.5450
Sardi, A. (2018). PENGEMBANGAN BUKU AJAR TEKNIK LABORATORIUM BIOLOGI DENGAN MENGGUNAKAN MODEL DICK AND CAREY. Jurnal Biotek, 6(2), 37. https://doi.org/10.24252/jb.v6i2.6399
Sugiyono. (2019). Metode Penelitian Kuantitatif, Kualitatif, dan R&D (Alfabeta).
Suparman, M. A. (2014). Desain Instruksional Modern : Panduan Para
Pengajar Dan Inovator Pendidikan (N. I. Sallama, Ed.). Erlangga.
Suradika, A. (2000). Metode Penelitian Sosial. UMJ Press.
Suradika, A. (2000). Pengantar statistik sosial. UMJ Press.
Suradika, A., Winata, W., Wicaksono, D., Hadi, M. S., & Rifqiyati. (2020). The Influence of Instructional Materials and Educational Background on the Learning Outcomes of Islamic Education. Solid State Technology, 63(6), 1027–1043. http://solidstatetechnology.us/index.php/JSST/article/view/2185
Winatha, K. R. (2018). Pengembangan E-modul Interaktif Berbasis Proyek Mata Pelajaran Simulasi Digital. Jurnal Pendidikan Teknologi Dan Kejuruan, 15(2), 188. https://doi.org/10.23887/jptk-undiksha.v15i2.14021
DOI:
https://doi.org/10.24853/instruksional.3.1.66-76
Refbacks
There are currently no refbacks.

This work is licensed under a
Creative Commons Attribution-NonCommercial-ShareAlike 4.0 International License
.
---
Copyright of Jurnal Instruksional (e-ISSN:2685-5645).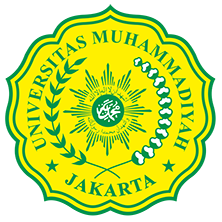 This work is licensed under a Creative Commons Attribution-NonCommercial-ShareAlike 4.0 International License.