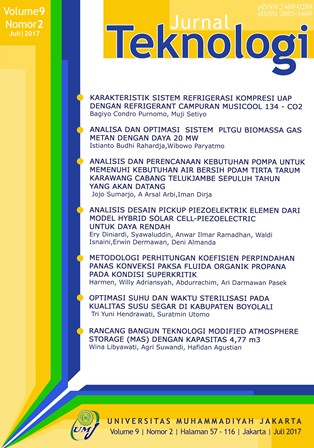 Jurnal Teknologi (Jurtek) Fakultas Teknik Universitas Muhammadiyah Jakarta adalah jurnal nasional berbasis penelitian ilmiah, secara rutin diterbitkan oleh Fakultas Teknik Universitas Muhammadiyah Jakarta sejak 2009 (versi cetak), dan mulai dionlinekan pada tahun 2014.
Jurnal Teknologi Terakreditasi  oleh Kementrian Riset Teknologi dan Pendidikan Tinggi No. 10/E/KPT/2019 tanggal  4 April 2019. Masa berlaku 2019-2024.

Jurnal Teknologi Fakultas Teknik Universitas Muhammadiyah Jakarta mengundang para dosen, peneliti, pengkaji, praktisi, industri, dan pemerhati serta mahasiswa S1/S2/S3, untuk mengirimkan paper atau artikel ilmiahnya. Paper yang masuk akan di-review secara peer-review. Setelah proses review selesai, hasil review akan diinformasikan kepada penulis paper melalui sistem Open Journal System (OJS). Jurnal Teknologi terbit 2 kali dalam setahun. Secara berkala Jurnal Teknologi terbit setiap bulan Januari dan Juli.
Directory of Open Access Journals (DOAJ), Google Scholar, Indonesian Scientific Journal Database (ISJD), Copernicus, Garuda, Crossref, SINTA, Directory of Research Journal Indexing (DRJI), CiteFactor, Researchgate, Indonesia One Search, Academia.edu, Researchbib, Academickeys.com, Bielefeld Academic Search Engine (BASE), Jifactor, PKP Index, Sherpa Romeo.