Mengelola Citra dan Membangun Reputasi: Studi atas Peran Public Relations di Universitas Muhammadiyah Jakarta
Abstract
Di dunia pendidikan, khususnya perguruan
tinggi, reputasi merupakan salah satu pendorong daya saing. Sebagai akumulasi dari citra, reputasi selalu melekat pada perguruan tinggi yang telah lama berdiri. Citra dan reputasi biasanya bersinggungan dengan peran Public Relations yang secara alamiah bertugas mengelola image dan membangun reputasi lembaga. Tulisan ini merupakan hasil penelitian dengan pendekatan deskriptif kualitatif yang bertujuan mengetahui dan menggali peran Public Relations (PR) di Universitas Muhammadiyah Jakarta dalam membangun
reputasi untuk bersaing meraih calon mahasiswa. Melalui wawancara mendalam dengan key informants, diketahui bahwa peran PR lebih banyak dijalankan melalui pendekatan promosi atau teknis pemasaran. Secara kelembagaan, posisi PR ditempatkan pada struktur organisasi di level teknis, bukan strategis sebagai pengelola citra dan reputasi lembaga. Pada penguatan kebijakan, public relations UMJ belum memiliki wewenang membuat kebijakan untuk mengelola citra dan membangun reputasi UMJ di hadapan publiknya, baik itu konsumen, media, komunitas, LSM, dan lain sebagainya. SDM kehumasan yang masih berada di level technical menjadi satu dari sekian banyak persoalan yang harus dibereskan oleh UMJ.
Kata kunci: Public Relations, Citra, Reputasi, Perguruan Tinggi Muhammadiyah
References
Cutlip, S. M. (2016). Effective Public Relations for Higher Education. Bulletin of The American Association of University Proffessors, 36(4), 646–658.
Doorley, J., & Garcia, H. F. (2015). REPUTATION MANAGEMENT- The Key to Successful Public Relations and Corporate Communication- 3rd Edition (3rd ed., Vol. 1). New York: Routledge.
KemenPANRB. (2011). Pedoman umum tata kelola kehumasan di lingkungan instansi pemerintah.
Leblanc, G., & Nguyen, N. (1997). Searching for excellence in business education: an exploratory study of customer impressions of service quality. International Journal of Educational Management (Vol. 11).
Ristekdikti, P. (2019). Renstra Kemenristekdikti 2015-2019.
Rusman, A. (2018). Organizational Culture on International of Universitas Muhammadiyah Yogyakarta. In Resources Development toward Civil Society.
Sung, M., & Yang, S. U. (2008). Toward the model of university image: the influence of brand personality, external prestige, and reputation. Journal of Public Relations Research, 20(4), 357–376. https://doi.org/10.1080/ 10627260802153207
Tench, R., & Yeomans, L. (2017). Exploring Public Relations (Fourth). Harlow: Pearson. Retrieved from www.pearson.com/uk
van Riel, C. B., & Fombrun, C. J. (2007). Essentials of Corporate Communication: Implementing Practices for Effective Reputation Management. New York: Routledge.
Refbacks
There are currently no refbacks.
Jurnal Kajian Ilmu Sosial Indexed by:

---
Jurnal Kajian Ilmu Sosial (e-ISSN:2722-4295).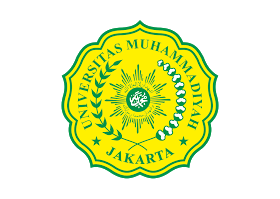 This work is licensed under a Creative Commons Attribution-NonCommercial 4.0 International License
Kajian Ilmu Sosial
Fakultas Ilmu Sosial dan Ilmu Politik
Universitas Muhammadiyah Jakarta
Jl. KH. Ahmad Dahlan, Cirendeu, Ciputat
Tangerang Selatan