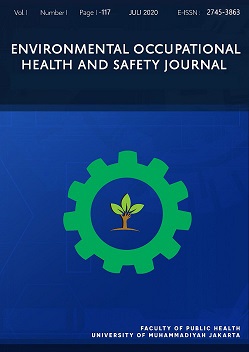 EOHSJ (Environtmel Occupational Health and Safety) : merupakan jurnal yang diterbitkan oleh Fakultas Kesehatan Masyarakat Universitas Muhammadiyah Jakarta dalam bidang ilmu kesehatan masyarakat. Tujuan jurnal ini adalah untuk mempublikasikan artikel yang berkualitas untuk semua aspek perkembangan terkini di bidang kesehatan lingkungan dan kesehatan keselamatan kerja. Skala terbitan Jurnal dua kali Setahun pada Januari dan Juli.
E-ISSN: 2745-3863
Ruang Lingkupnya mencakup lingkungan udara, air, tanah, sanitasi makanan, limbah, vektor dan hama, kesehatan dan keselamatan kerja. Jurnal ini terbit setiap enam bulan sekali (Juli dan Januari). Publikasi dijurnal ini terlebih dahulu dilakukan proses peer review.
Announcements
No announcements have been published.
Vol 3, No 1 (2022): EOHSJ