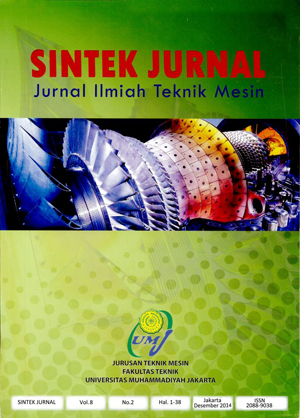 SINTEK JURNAL: Jurnal Ilmiah Teknik Mesin is an open access, peer review journal which publishes original and review articles that advance the understanding of both the fundamentals of engineering science and its application to the solution of challenges and problems in mechanical engineering systems, machines, and components. The editorial team aims to publish high quality and highly applied research and innovation that has the potential to be widely disseminated, taking into consideration the potential mechanical engineering that it could generate.

pISSN : 2088-9038 (print)
eISSN : 2549-9645 (online)


SINTEK JURNAL: Jurnal Ilmiah Teknik Mesin is in the third grade (SINTA 3) of National Accreditation by Indonesian Ministry of Research, Technology, and Higher Education (RISTEKDIKTI). It is contained in the decree No. 36/E/KPT/2019.
SINTEK JURNAL: Jurnal Ilmiah Teknik Mesin started accepting article in English in the Vol. 14, No. 1, 2020.
We invite lecturers, researchers, reviewers, practitioners, industry, and observers as well as S1 / S2 / S3 students, to send papers or scientific articles. The incoming papers will be peer-reviewed. After the review process is complete, the results of the review will be informed to the authors of the paper through the Open Journal System (OJS) and also through the author's email.
SINTEK JURNAL: Jurnal Ilmiah Teknik Mesin is proud to accept papers for its upcoming edition: Volume 18, Number 1 & 2, 2024.

Please submit your paper online, click here to register and apply your submission. Deadline of submission: December, 2023.

You may submit your paper until this deadline; all papers shall be gathered and evaluated by the Editorial Team after the submission closes on.

The list of selected papers shall be published on the website, the end of June & December 2024.
Vol 17, No 1 (2023)
SINTEK JURNAL
Table of Contents
Articles
| | |
| --- | --- |
| Arya Rudi Nasution, Fauzi S Wahyudi, Chandra A Siregar, Affandi Affandi, Zahrul Fuadi | 1-6 |
| | |
| --- | --- |
| Siska Ayu Kartika, N.H. Abdullah, P. Saksono | 7-16 |
| | |
| --- | --- |
| Anes Inda Rabbika, MH Nugraha, Abd Rohman, Widyantoro Widyantoro, Tata Kostaman, Willy Muhammad Fauzi, Asep Mustofa, Tri Jaya Widagdo | 17-23 |
| | |
| --- | --- |
| Achmad Bagas Maulana, Edi Widodo, Arasy Fahruddin, Sulis Yulianto | 24-30 |
| | |
| --- | --- |
| Bahtiar Rahmat, Mohammad Burhan Rubai Wijaya | 31-37 |
| | |
| --- | --- |
| Eko Julianto, Feriansyah Feriansyah, Wahyu Wahyu, Gunarto Gunarto, Eko Sarwono | 38-43 |
| | |
| --- | --- |
| MH Nugraha, Widyantoro Widyantoro, Ajie M Luthfi, Anes IR, Abd Rohman, Willy MF | 44-49 |
| | |
| --- | --- |
| Rifaldo Pido, Rahmad Hidayat Boli, Mohamad Rifal, Wawan Rauf | 50-56 |
| | |
| --- | --- |
| Ade Hermawan, Achmad Syarifudin, Hendro Sukismo, Basino Basino, Priyantini Dewi, Feby Riyan Extrada | 57-62 |
| | |
| --- | --- |
| Taruna Taruna, Masringgit Marwiyah NST | 63-70 |