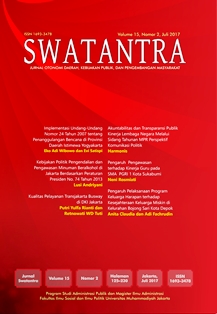 SWATANTRA: Jurnal Otonomi Daerah dan Pengembangan Masyarakat is a peer-reviewed journal published by undergraduate as well as magister program of Administration Studies Department of Faculty of Social and Political Sciences, Universitas Muhammadiyah Jakarta. This national journal aims to disseminate Administration science research in various fields, issues of regional autonomy, public policy, and community development.
p-ISSN : 1693-3478 (print)
e-ISSN : 2598-0394 (online)
SWATANTRA: Jurnal Otonomi Daerah dan Pengembangan Masyarakat biannually publishes the journal in January and July. We clarify ethical behavior for all parties involved, including authors, editor-in-chief, editorial board, reviewers, and publisher. Free access is provided for the online version to support knowledge exchange globally, especially in administration studies major. Furthermore, We would like to invite scholars from administration studies background to submit your papers to be published in the upcoming of SWATANTRA editions. Please kindly send your article through our website in which you must register yourself as author and reader. We will follow up all authors accordingly.
Vol 21, No 2 (2023)
Table of Contents
Articles
| | | |
| --- | --- | --- |
| | Ready Oktapriadi, Abdul Rahman | 161-168 |
| | | |
| --- | --- | --- |
| | Astriana Baiti Sinaga, Cecep Effendi, Mulkan Habibie, Sa'diyah El Adawiyah | 179-188 |
| | | |
| --- | --- | --- |
| | Yolanda Isroyanti | 213-220 |