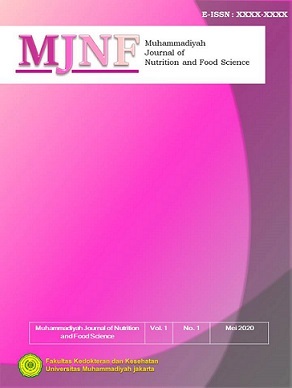 Muhammadiyah Journal of Nutrition and Food science (MJNF) adalah jurnal ilmiah dalam bidang ilmu gizi dan pangan yang terbit secara berkala, setiap dua kali dalam setahun (Mei dan November), yang diterbitkan oleh Program Studi Gizi, Fakultas Kedokteran dan Kesehatan, Universitas Muhammadiyah Jakarta.
MJNF mempublikasikan informasi mengenai hasil penelitian serta review dalam bidang ilmu gizi dan pangan. Tujuan utama dari MJNF adalah untuk membentuk forum publikasi, edukasi, pertukaran pendapat, dan untuk mempromosikan kegiatan penelitian dan publikasi secara global.
MJNF mengundang para dosen, peneliti, pengkaji, praktisi, industri, dan pemerhati serta mahasiswa S1/S2/S3, untuk mengirimkan paper atau artikel ilmiahnya. Paper yang masuk akan di-review secara peer-review dengan metode double-blinded. Setelah proses review selesai, hasil review akan diinformasikan kepada penulis paper melalui sistem Open Journal System (OJS).
Announcements
Call for Papers MJNF Volume 1 Nomor 2 Tahun 2020

MJNF (Muhammadiyah Journal of Nutrition and Food Science) mengundang rekan sejawat dan peneliti untuk mengirimkan naskah/artikel dengan format hasil penelitian (original article), studi literatur dan laporan kasus (case report) untuk diterbitkan pada MJNF Volume 1 Nomor 2 Tahun 2020. Deadline pengiriman artikel hingga 10 Oktober 2020. Atas perhatian rekan sejawat kami ucapkan terima kasih.

Posted: 2020-07-23

Muhammadiyah Journal of Nutrition and Food Science Volume 1 Nomor 1 Mei Tahun 2020

Posted: 2020-06-16